Program Philosophy, Goals and Design
Founded by Pastor William Lockett, Victory Through Faith Recovery Services Has Developed a comprehensive approach to recovery, uniting Spirituality with recovery to promote change from the inside Out. The programs include; in-patient as well as out-patient services through our Micah House's and Living Victoriously Outpatient Programs.
"One Treatment, in Multiple Locations"
Victory Through Faith Recovery Services/Micah House is a licensed program that provides competent treatment services with housing in Hennepin County, as well as neighboring Counties. The goal of Victory Through Faith Recovery Services/Micah House is to promote chemical health while alleviating the wide array of disparities people experience while in recovery.  
Victory Through Faith Recovery Services/Micah House is designed to address the needs of the whole person; spirituality, physically, economically in a culturally diverse environment.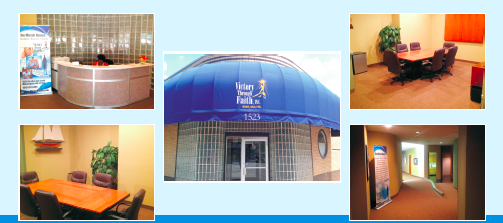 "The Micah House Oath"
For all those who enter this house of sanctuary, giving no regards to race or religion, are bonded by a common thread and struggle, life.
We are all connected to each other like the links of a chain, no one more or less important than the other. We are all responsible for the uplifting of each other, so unity, peace, love, and prosperity is unto all who pass through these doors of opportunity, the opportunity to begin a new day.
Victory Through Faith Recovery Services
Victory Through Faith Recovery Services/ Micah House services enhance the primary treatment experience by providing comprehensive services that address the whole person in all areas of life functioning that affect the sobriety men from the inside out. Individualized treatment plans provide a plan for each participant. Services provided by Micah House includes…
Each week Micah House will teach on the strength from within; and the importance of reaching inside and realizing the power that exist on the inside of us all.
To teach community responsibility and social obligation by getting involved and connected with local organizations.
Micah House will utilize an urban model of relapse prevention services to prevent relapse into both drug use and criminal behavior.  The program helps participants to identify specific triggers that have in the past lead to their continued drug use and criminal behavior.
ELIMINATING HEALTH DISPARITIES
All treatment plans will address health issues.  
Micah House has created an environment that is conducive  for inner personal growth, by using traditional treatment models, charged in a spiritual atmosphere, wrapped in genuine concern; to produce supernatural results in the lives of our clients.


Micah House works closely with spiritual leaders to provide clients access to various venues of worship.  Licensed under Minnesota DHS rule 31 and State of Florida DCF.